What is Memberstack and How it is Useful for Webflow?
Updated on:
Oct 16, 2023
Read time:
2 min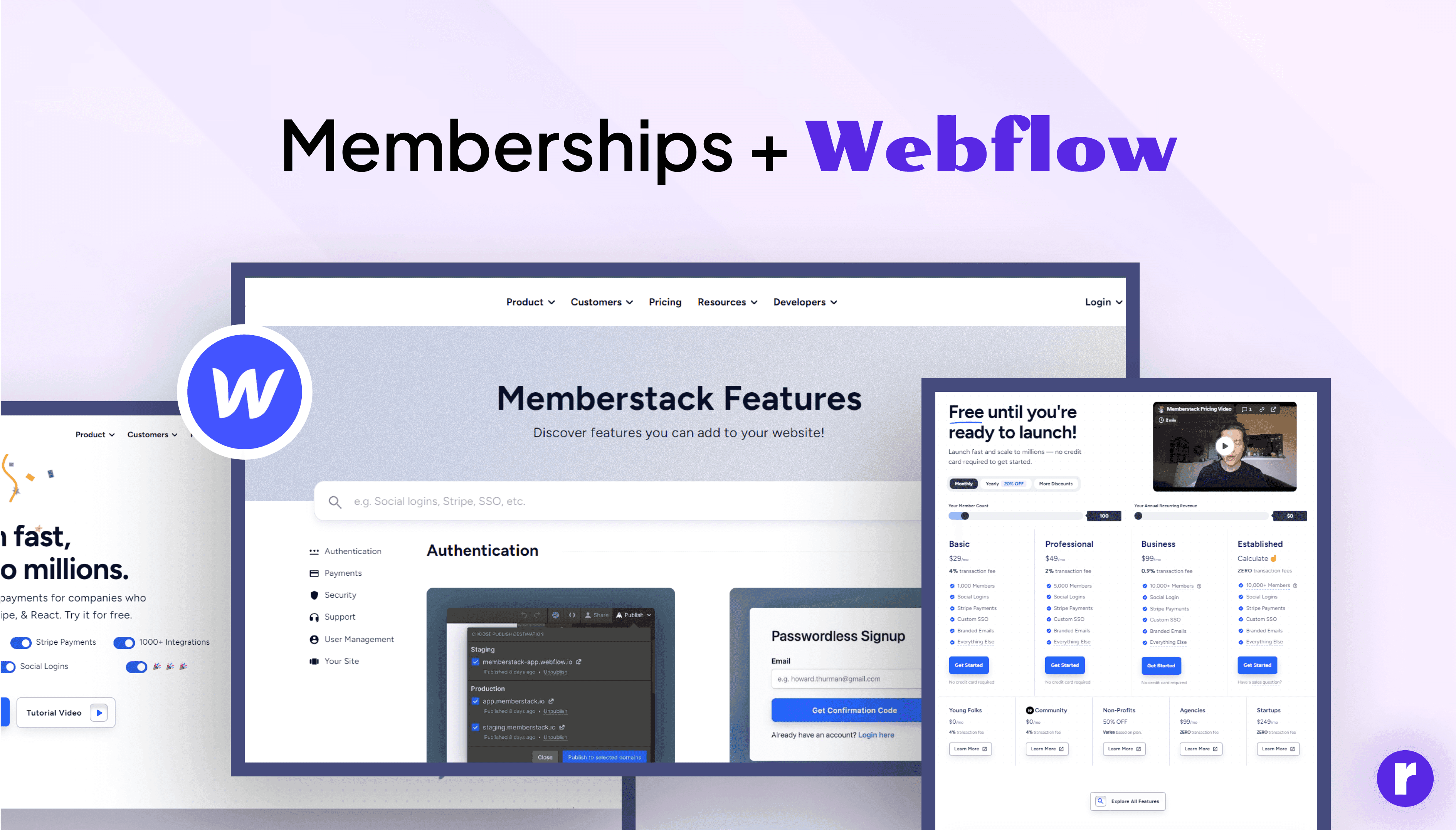 What is Memberstack?
Memberstack is a powerful tool designed specifically for developers, providing them with the ability to easily add user authentication and membership functionality to their websites. With this, developers can create and manage various membership levels, restrict access to certain content or features, and handle user registration and login processes seamlessly. It works smoothly with Webflow, so you can easily create and manage memberships without having to code or develop complex features.
Understanding Memberstack: Empowering Webflow Users
With this, web developers can easily create and launch subscription-based access, gated content, user profiles, and more. Its user-friendly interface helps developers convert static websites into dynamic platforms that engage and keep users. Regardless of the project's size or complexity, It offers the flexibility and functionality needed.
1. Membership website type
I) Content Subscription Site:

Make a site where users pay to see top-quality content. Use MemberStack to create different membership levels, each giving access to various content levels.

II) Online Courses and E-Learning:

It can be used to create a website for online courses. Users can pay for access to courses and track their progress. You can also offer free trials or sample lessons to entice users to subscribe.

III) Fitness and Wellness:

Create a website for fitness or wellness. After becoming members, users can get workout plans, food guides, or health tips.
2. Complex features
I) API Access and Webhooks:
Use MemberStack's API to integrate with other tools and services, allowing for custom functionality and data syncing.

Set up webhooks to trigger events and automate processes.
II) Multi-Language Support:
Create multilingual membership websites with support for different languages.

Offer content and communication in multiple languages.
III) Handling Payments and Integration:
Easy integration with payment platforms like Stripe for subscription payments..

Allows single payments, recurring subscriptions, and custom pricing.

Manage transactions and subscription billing.
Why Memberstack for Webflow?
Now that we have a basic understanding, let's explore why it's such a valuable asset for developers using Webflow.
1. Unleash the Power of Webflow + Memberstack Integration
One of the best features is its seamless integration with Webflow. Built by developers for developers, It has been carefully designed to integrate perfectly with Webflow, improving its capabilities and expanding its core functionalities. Imagine transforming your Webflow website into a fully functional membership platform without the need for complex custom development. With Memberstack, this dream becomes a reality.
2. Easy Implementation and Customization
Memberstack makes it easy to set up membership systems. With its user-friendly interface, you can quickly customize membership plans, user registration, login forms, and more. Whether you're experienced or new to development, It makes building a membership system simple.
3. Seamless User Experience
In today's fast-paced digital world, it's important to provide a smooth user experience. Memberstack recognizes this and provides developers with the tools to create enjoyable experiences for website visitors. With features like personalized user profiles and secure payment gateways, It simplifies the entire user journey, leaving users happy and wanting to come back for more.
4. Enhanced Security and Privacy
Privacy and security are extremely important right now. It ensures that your users' data is handled securely and in line with industry standards. It handles user authentication, data storage, and privacy regulations so you can focus on building great websites..
Conclusion
As we finish our look at Memberstack's advantages for Webflow developers, it's evident that this tool is a game-changer. With its smooth integration with Webflow and easy implementation and customization, It empowers developers to elevate their projects.
With this, you can make static websites dynamic. This helps engage users, build community, and generate recurring revenue through subscriptions. The added security and privacy features ensure trust in user interactions.
So, whether you're a freelance developer, agency professional, or passionate coder, harness the power of Memberstack to unlock the full potential of your Webflow projects!